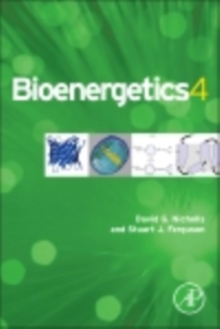 Bioenergetics
Download Immediately Available
Extensively revised, the fourth edition of this highly successful book takes into account the many newly determined protein structures that provide molecular insight into chemiosmotic energy transduction, as well as reviewing the explosive advances in 'mitochondrial physiology'-the role of the mitochondria in the life and death of the cell.
Covering mitochondria, bacteria and chloroplasts, the fourth edition of Bioenergeticsprovides a clear and comprehensive account of the chemiosmotic theory and its many applications. The figures have been carefully designed to be memorable and to convey the key functional and mechanistic information. Written for students and researchers alike, Bioenergeticsis the most well-known, current and respected text on chemiosmotic theory and membrane bioenergetics available.
BMA Medical Book Awards 2014-Highly Commended, Basic and Clinical Sciences,2014,British Medical Association
Chapters are now divided between three interlocking sections: basic principles, structures and mechanisms, and mitochondrial physiology.
Covers new advances in the structure and mechanism of key bioenergetic proteins, including complex I of the respiratory chain and transport proteins.
Details cellular bioenergetics, mitochondrial cell biology and signal transduction, and the roles of mitochondria in physiology, disease and aging.
Offers readers clear, visual representation of structural concepts through full colour figures throughout the book.
Format: EPUB
Click here to see our help pages on reading this eBook on your chosen device. Please note that this eBook is incompatible with most Kindle eReaders. This item cannot be refunded once download has started.
Pages: 434 pages
ISBN/EAN: 9780123884312
Publisher: Elsevier Science
Publication Date: 20/05/2013
Category: Biochemistry