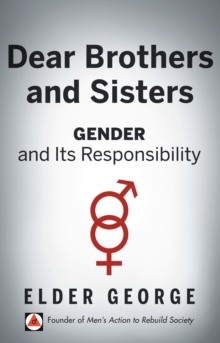 Dear Brothers and Sisters
Download Immediately Available
Author Elder George, in his work "Dear Brothers and Sisters: Gender and Its Responsibility," explains the universal principle of gender and describes how the imbalance of gender, specifically the suppression of the masculine influence, in Western society has adversely affected the lives of every man, woman, and child.
He shows that our burgeoning prison population, increased membership in street gangs, and decline in standards of all sorts are gender-related. He explains that family is a necessary institution for the proper nurturing and protection of the human race, and that gender differences supplement each other in the collective effort of propagating and preserving the species as it grows spiritually. Elder's work is written for the concerned men and women who realize that brothers and sisters working together can establish a spiritually-based and gender-oriented society that will ensure relative stability and security while fostering future development.
Format: EPUB
Click here to see our help pages on reading this eBook on your chosen device. Please note that this eBook is incompatible with most Kindle eReaders. This item cannot be refunded once download has started.
Pages: 180 pages
ISBN/EAN: 9781612861586
Publisher: Men's Action, Inc.
Publication Date: 02/05/2013
Category: Gender studies, gender groups