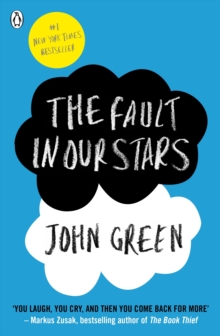 The Fault in Our Stars
Download Immediately Available
John Green's witty yet heart-breaking tour de force. The multi-million #1 bestseller, now a major motion picture starring Shailene Woodley and Ansel Elgort.
"I fell in love the way you fall asleep: slowly, then all at once."
Despite the tumor-shrinking medical miracle that has bought her a few years, Hazel has never been anything but terminal, her final chapter inscribed upon diagnosis. But when a gorgeous plot twist named Augustus Waters suddenly appears at Cancer Kid Support Group, Hazel's story is about to be completely rewritten.
Insightful, bold, irreverent, and raw, The Fault in Our Stars is award-winning author John Green's most ambitious and heartbreaking work yet, brilliantly exploring the funny, thrilling, and tragic business of being alive and in love.
** A thought-provoking love story from the New York Times bestselling author of Looking for Alaska, An Abundance of Katherines, Paper Towns and - with David Levithan - Will Grayson, Will Grayson.
** John Green has over 2.3 million Twitter followers, and more than 2.1 million subscribers to Vlogbrothers, the YouTube channel he created with his brother, Hank.
** The Fault in Our Stars will capture a crossover audience in the same vein as Zadie Smith, David Nicholls' One Day and Before I Die by Jenny Downham.
** 'Electric . . . Filled with staccato bursts of humor and tragedy' - Jodi Picoult
** 'A novel of life and death and the people caught in between, The Fault in Our Stars is John Green at his best. You laugh, you cry, and then you come back for more' - Markus Zusak, author of The Book Thief
Format: EPUB
Click here to see our help pages on reading this eBook on your chosen device. Please note that this eBook is incompatible with most Kindle eReaders. This item cannot be refunded once download has started.
Pages: 336 pages
ISBN/EAN: 9780141345642
Publisher: Penguin Books Ltd
Publication Date: 03/05/2012