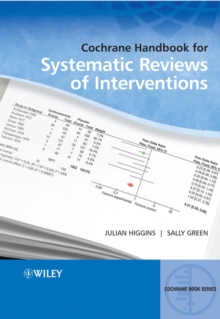 Cochrane Handbook for Systematic Reviews of Interventions
Download Immediately Available
Healthcare providers, consumers, researchers and policy makers are inundated with unmanageable amounts of information, including evidence from healthcare research. It has become impossible for all to have the time and resources to find, appraise and interpret this evidence and incorporate it into healthcare decisions. Cochrane Reviews respond to this challenge by identifying, appraising and synthesizing research-based evidence and presenting it in a standardized format, published in The Cochrane Library (
www.thecochranelibrary.com
).
The Cochrane Handbook for Systematic Reviews of Interventions contains methodological guidance for the preparation and maintenance of Cochrane intervention reviews. Written in a clear and accessible format, it is the essential manual for all those preparing, maintaining and reading Cochrane reviews. Many of the principles and methods described here are appropriate for systematic reviews applied to other types of research and to systematic reviews of interventions undertaken by others. It is hoped therefore that this book will be invaluable to all those who want to understand the role of systematic reviews, critically appraise published reviews or perform reviews themselves.


This title is also available as a mobile App from MedHand Mobile Libraries. Buy it now from Google Play or the MedHand Store.
Format: EPUB
Click here to see our help pages on reading this eBook on your chosen device. Please note that this eBook is incompatible with most Kindle eReaders. This item cannot be refunded once download has started.
Pages: 672 pages
ISBN/EAN: 9781119964797
Publisher: Wiley
Publication Date: 24/08/2011
Category: Medicine: general issues