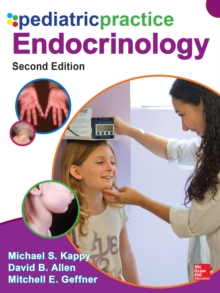 Pediatric Practice: Endocrinology, 2nd Edition
Download Immediately Available
The go-to guide for managing endocrine problems in children completely updated for today s practice
Part of the Pediatric Practice series, Pediatric Practice: Endocrinology is an outstanding clinical analysis and decision-making tool for those treating endocrine problems in children. Featuring an innovative problem-oriented approach, this well-illustrated, full-color guide skillfully integrates pathophysiology with clinical management. Numerous figures illustrate the principles of normal and abnormal physiology and treatment rationale and effects.
Since an understanding of the clinical manifestations and treatments of endocrine disorders begins with knowledge of concepts of hormone action and principles of feedback control, the first chapter, "General Concepts and Physiology," links genetics, cell biology, and physiology with pathophysiology to provide a clear and approachable overview of endocrine systems. Subsequent chapters discuss disorders of growth, puberty, thyroid and adrenal glands, sex development, calcium and bone metabolism, water homeostasis, and carbohydrate metabolism and its comorbidities.
In this second edition, contributing authors have updated all chapters. Important additions include sections on genetics for the endocrinologist in the general concepts chapter, an overview of the physiology and treatment of metabolic syndrome and dyslipidemia in the obesity chapter, and the addition of a new chapter on enteric hormones.
Features of the Pediatric Practice Series
The Pediatric Practice series simplifies the care of pediatric patients by delivering:
Tips that tell you what you must know--and what you must do--at every stage of care
Diagnostic and treatment algorithms
Signs/Symptoms and Differential Diagnosis boxes
When to Refer boxes, which examine all the relevant clinical considerations
Diagnostic Tests--with a realistic emphasis on the right tests to order
Medical Treatment coverage that includes drugs, dosages, and administration in an easy-to-read tabular format
Convenient icons and a consistent chapter design
Numerous clinical color photos and didactic diagrams
Format: EPUB
Click here to see our help pages on reading this eBook on your chosen device. Please note that this eBook is incompatible with most Kindle eReaders. This item cannot be refunded once download has started.
Pages: 432 pages
ISBN/EAN: 9780071813181
Publisher: McGraw-Hill Education
Publication Date: 22/05/2014
Category: Metabolism