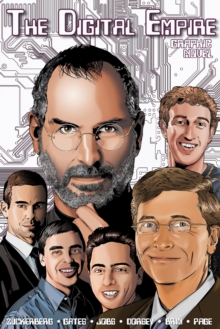 Orbit: The Digital Empire: Bill Gates, Steve Jobs, Sergey Brin, Larry Page, Mark Zuckerberg & Jack Dorsey
Part of the Orbit series
Download Immediately Available
Bill Gates and Steve Jobs arguably revolutionized how people work and communicate.
Mark Zuckerberg and Jack Dorsey pioneered new ways to connect socially.
Sergey Brin and Larry Page created a way to navigate the massive World Wide Web.
Together, these men rise above the rest as icons in the world of technology, and their stories are as interesting as their work.
Cover by famed artist George Amaru.
Format: EPUB
Click here to see our help pages on reading this eBook on your chosen device. Please note that this eBook is incompatible with most Kindle eReaders. This item cannot be refunded once download has started.
Pages: 146 pages
ISBN/EAN: 9781629786049
Publisher: Bluewater Productions
Publication Date: 22/10/2014
Category: Comics and Graphic Novels