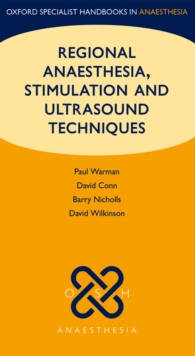 Regional Anaesthesia, Stimulation, and Ultrasound Techniques
Download Immediately Available
Regional anaesthesia is used across specialties within anaesthesia, and is a rapidly growing sub-specialty.
This new handbook covers both traditional and ultrasound guided techniques, concentrating on the differences between them.
Offering readers a comprehensive overview for clinical practice, it includes paediatric and acute pain applications.
Each topic covers anatomy, contraindications, landmark/US settings, technique, complications, and clinical notes.
Discretesections on pharmacology, principles, and training further the books use for teaching purposes.It will appeal to both trainees and consultants in regional anaesthesia, as well as anaesthetic nurses and anaesthetic practitioners.
Presented in the Oxford Specialist Handbook series, it offers practical advice as well as background information in a convenient pocket-sized title.
Format: PDF
Click here to see our help pages on reading this eBook on your chosen device. Please note that this eBook is incompatible with most Kindle eReaders. This item cannot be refunded once download has started.
Pages: 576 pages
ISBN/EAN: 9780191060595
Publisher: OUP Oxford
Publication Date: 27/11/2014
Category: Anaesthetics