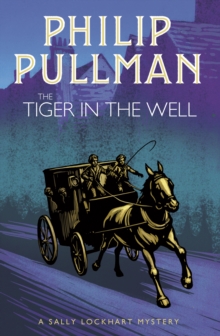 A Sally Lockhart Mystery 3 : The Tiger in the Well
Download Immediately Available
In a respectable tea-shop in London, a girl with a pistol is holding off three men.
Sally Lockhart is fighting for her child - a child who is suddenly not hers any more.
Sally is now twenty-five, and somebody wants to destroy her.
She is unmarried - but she receives divorce papers from a man she has never even met, let alone married.
Who is this evil stranger? His trap is so well-laid that she is powerless to disprove his lies.
Now he has been awarded custody of her precious daughter.
Driven from her home, desperately trying to understand what's happening, Sally is prepared to fight for her family's freedom.
Even if it turns out to be a fight to the death.
Format: EPUB
Click here to see our help pages on reading this eBook on your chosen device. Please note that this eBook is incompatible with most Kindle eReaders. This item cannot be refunded once download has started.
Pages: 464 pages
ISBN/EAN: 9781407180144
Publisher: Scholastic UK
Publication Date: 22/12/2016
Category: Crime & mystery fiction (Children's/YA)