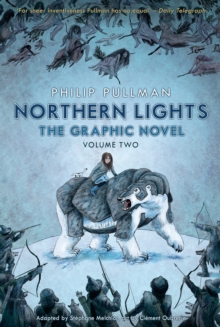 Northern Lights - The Graphic Novel Volume 2
Download Immediately Available
Lyra and Pantalaimon have journeyed north, in search of the missing children and Lord Asriel. But the frozen wilds are harsh and unhospitable, and fearsome enemies are waiting at every turn. If Lyra is to succeed in her quest, she must enlist the help of unexpected allies: an armoured bear and a witch queen. The path ahead will lead to dark truths and grave danger . . .
The second book in a stunning three-volume graphic novel adaptation of Northern Lights, the first of which won the Prix Jeunesse du Festival d'Angoul me.
Format: EPUB
Click here to see our help pages on reading this eBook on your chosen device. Please note that this eBook is incompatible with most Kindle eReaders. This item cannot be refunded once download has started.
Pages: 80 pages
ISBN/EAN: 9781448197415
Publisher: RHCP
Publication Date: 01/09/2016
Category: Comic strip fiction / graphic novels