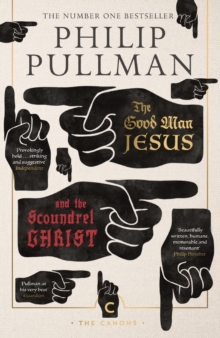 The Good Man Jesus and the Scoundrel Christ
Part of the Canons series
Download Immediately Available
'If I vanished he wouldn't notice, if I died he wouldn't care.
I think of him all the time, and he thinks of me not at all.
I love him, and my love torments me. There are times when I feel like a ghost beside him; as if he alone is real, and I'm just a daydream.'This is the story of two brothers. One is impassioned and one reserved. One is destined to go down in history and the other to be forgotten. In Pullman's hands, this sacred tale is reborn as one of the most enchanting, thrilling and visionary stories of recent years.
Format: EPUB
Click here to see our help pages on reading this eBook on your chosen device. Please note that this eBook is incompatible with most Kindle eReaders. This item cannot be refunded once download has started.
Pages: 256 pages
ISBN/EAN: 9781847678287
Publisher: Canongate Books
Publication Date: 04/12/2009