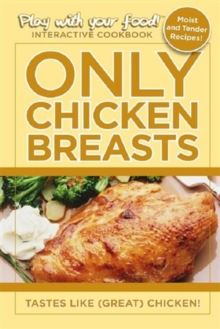 Only Chicken Breasts
Download Immediately Available
The venerable and versatile chicken breast can be grilled, broiled, baked, roasted, and pan fried.
It can be flattened, breaded, rolled and stuffed. It can be cooked skin on or skin off, and if you leave the skin on, butter, herbs and spices can be loaded underneath the skin.
The Only Chicken Breasts interactive cookbook includes recipes such as oven baked Blue Cheese Chicken Breasts, flattened Spinach Stuffed Chicken Breasts, stove top Cream and Brandy Chicken Breasts, and slow cooker Creole Sauce Chicken Breasts.
Format: EPUB
Click here to see our help pages on reading this eBook on your chosen device. Please note that this eBook is incompatible with most Kindle eReaders. This item cannot be refunded once download has started.
Pages: 180 pages
ISBN/EAN: 9780977334490
Publisher: Entree Press LLC
Publication Date: 09/01/2014