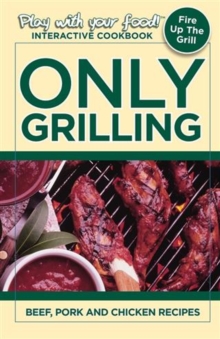 Only Grilling
Download Immediately Available
There is something primal about grilling food outdoors-the open air, the billowing, fragrant smoke, the constant tending to the grill temperature, and the elaborate, almost ritual poking and prodding of the meat.
The Only Grilling: Beef, Pork, and Chicken Recipes interactive cookbook includes such grill-ready recipes as Apricot-glazed Pork Chops, Maple Syrup Baby Back Ribs, Bleu Cheese and Butter Porterhouse Steak, Burgundy Sauce Filet Mignon, Parmesan and Red Pepper Sauce Chicken Wings, and Citrus and Teriyaki Chicken Breasts.
Includes recipes for filet mignon, porterhouse, t-bones, rib-eyes, New York strip steaks, beef short ribs, pork chops and tenderloins, baby back and St.
Louis style ribs, whole chicken, and chicken breasts, thighs, and wings.
Format: EPUB
Click here to see our help pages on reading this eBook on your chosen device. Please note that this eBook is incompatible with most Kindle eReaders. This item cannot be refunded once download has started.
Pages: 174 pages
ISBN/EAN: 9780977334469
Publisher: Entree Press LLC
Publication Date: 09/01/2014