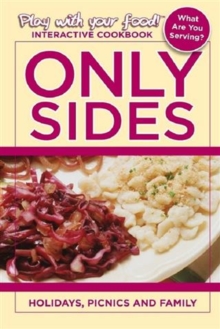 Only Sides
Download Immediately Available
The ONLY SIDES: HOLIDAYS, PICNICS AND FAMILY "Play with Your Food!" interactive cookbook encourages you to find your personal cooking style, refine your palate, and have a lot more fun in the kitchen by:¢ embracing ingredient substitution and experimentation¢ developing flavor profiles that feature your preferences¢ building perfect plates that showcase your talent.
The ONLY SIDES cookbook takes you on a journey through ingredient substitution, palate development, cooking method tips and tricks, kitchen and grilling safety information, and includes family-pleasing recipes like Potato, Apple and Cheese Casserole, Brussels Sprouts and Maple Glazed Side Dish, Mushroom and Asparagus Au Gratin Potatoes, Roasted Red Pepper Potato Salad, and Bacon and Onion Potato Salad.Be sure to check out the other Entree Press interactive cookbook titles available through Book Hub.
Format: EPUB
Click here to see our help pages on reading this eBook on your chosen device. Please note that this eBook is incompatible with most Kindle eReaders. This item cannot be refunded once download has started.
Pages: 152 pages
ISBN/EAN: 9780991286829
Publisher: Entree Press LLC
Publication Date: 09/01/2014