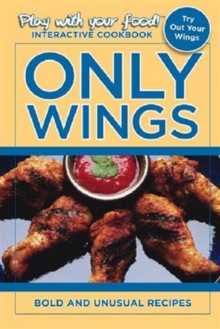 Only Wings
Download Immediately Available
Wings are the most popular appetizer in restaurants across the nation.
One nation restaurant franchise is dedicated (almost) solely to chicken wings, and virtually every Chinese buffet serves them.
The interactive cookbook Only Wings: Bold and Unusual Recipes showcases recipes with intriguing and enticing flavor profiles including Tequila Chipotle Wings, Banana and Green Chilies Wings, Orange Marmalade and Honey Wings, Peanut Butter and Beer Wings, Plum Jam and Horseradish Wings, and Ginger and Garlic Wings.
Format: EPUB
Click here to see our help pages on reading this eBook on your chosen device. Please note that this eBook is incompatible with most Kindle eReaders. This item cannot be refunded once download has started.
Pages: 174 pages
ISBN/EAN: 9780977334476
Publisher: Entree Press LLC
Publication Date: 09/01/2014