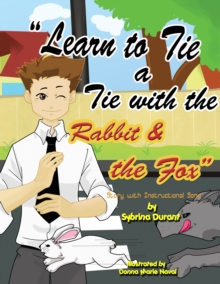 Learn To Tie A Tie With The Rabbit And The Fox
Download Immediately Available
Have you heard about the rabbit and the hungry fox?
For generations, this endearing Old World mnemonic was passed from father to son by word of mouth.
Mnemonic is the art of memorizing something by associating it with words, phrases, or sentences that have been especially designed to help you remember.
Now, this clever memory jogger has been revived in Learn To Tie A Tie With The Rabbit and the Fox, a cute and beautifully illustrated story with a lively instructional song.
This story book offers a fun and simple lesson for tying a school boy knot in a necktie.
This family activity book makes it fun for parents to teach their children the most popular method for tying a tie.
It's so easy, that very young children can quickly master it.
Just grab a tie for each person to follow along with the story and the step-by-step illustrations.
Soon, everyone will be have a perfectly tied necktie.
Then try singing the song as you practice your new skill.
You won't be able to forget the skill or the song! You will be rooting for the little rabbit to escape the snapping jaws of the hungry fox as they race through the forest mimicking the motions of tying a tie.
After reading about the rabbit's flight from the fox, you will never again be at a loss as to how to tie this elegant knot, also known as the "four in hand."
Format: EPUB
Click here to see our help pages on reading this eBook on your chosen device. Please note that this eBook is incompatible with most Kindle eReaders. This item cannot be refunded once download has started.
Pages: 198 pages
ISBN/EAN: 9780972937221
Publisher: Sybrina Publishing
Publication Date: 01/10/2014