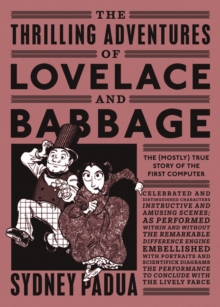 The Thrilling Adventures of Lovelace and Babbage : The (Mostly) True Story of the First Computer
Download Immediately Available
In The Thrilling Adventures of Lovelace and Babbage Sydney Padua transforms one of the most compelling scientific collaborations into a hilarious set of adventures
The Thrilling Adventures of Lovelace and Babbage is a unique take on the unrealized invention of the computer in the 1830s by the eccentric polymath Charles Babbage and his accomplice, the daughter of Lord Byron, Ada, Countess of Lovelace. When Ada translated her friend Babbage's plans for the "Difference Engine," her lengthy footnotes contained the first appearance of the general computing theory-one hundred years before an actual computer was built. Sadly, Lovelace died of cancer a few years after publishing the paper, and Babbage never built any of his machines. But now Sydney Padua gives us an alternate reality in which Lovelace and Babbage do build the Difference Engine, and then use it to do battle with the American banking system, the publishing industry and their own fears that their project will lose funding -- all "for the sake of both London and science".
Sydney Padua is a graphic artist and animator. Her visual effects work includes both hand-drawn and computer-generated and appears in such films as The Iron Giant, Clash of the Titans, and John Carter. Her webcomic The Thrilling Adventures of Lovelace and Babbage has been featured on the BBC's Techlab, and in The Economist, The Times, and Wired UK. She is a Canadian living in London.
Format: EPUB
Click here to see our help pages on reading this eBook on your chosen device. Please note that this eBook is incompatible with most Kindle eReaders. This item cannot be refunded once download has started.
Pages: 320 pages
ISBN/EAN: 9780141981567
Publisher: Penguin Books Ltd
Publication Date: 07/05/2015
Category: Literary & memoirs