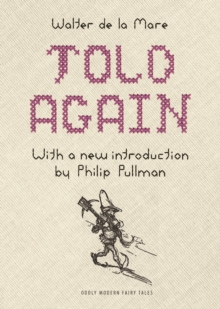 Told Again : Old Tales Told Again
Download Immediately Available
Originally published in 1927, Told Again is an enchanting collection of elegant fairy tales, showcasing the formidable talents of a writer who used magical realism before the term had even been invented. Walter de la Mare (18731956) was one of the most celebrated writers of children's literature during the first half of the twentieth centuryso much so that W. H. Auden edited a selection of his poems and British children could recite de la Mares verses by heart. His abundant literary gifts can be savored once more in this new edition. With marvelous black and white illustrations by A. H. Watson, this volume includes a splendid introduction by Philip Pullman, the contemporary master of fantasy literature.
The significance of the nineteen adapted classics in Told Again lies in de la Mares poetic insights and graceful prose, whichas Pullman indicates in his introductionsoften and sweeten the originals, making these tales appropriate for younger readers. In "The Four Brothers," the siblings allow the princess to choose her own husband rather than argue over her; and in "Rapunzel," de la Mare discreetly leaves out details of the princes tortured, blind search for his love. Familiar stories, such as "Little Red Riding-Hood," "Rumplestiltskin," and "The Sleeping Beauty" are also made new through de la Mares expansive, descriptive, and lyrical prose. Pullman covers important details about de la Mares life and captures the stylistic intention behind the rewriting of these wonderful favorites.
Reviving the work of a writer who exemplified a romantic vision and imagination, Told Again is a remarkable retelling of fairy tales touched by mystery and magic.
Format: EPUB
Click here to see our help pages on reading this eBook on your chosen device. Please note that this eBook is incompatible with most Kindle eReaders. This item cannot be refunded once download has started.
Pages: 248 pages
ISBN/EAN: 9781400851997
Publisher: Princeton University Press
Publication Date: 26/10/2014